Company ID Cards
Company ID Cards
ID Card Solutions
Company ID Cards
What a Company ID Card Can do for your Business


Company ID cards are a great way to centralize operations and streamline everyday company processes. With an ID system employees can enjoy benefits such as time and attendance tracking, cashless payment, access control, and more. Retail operations can use an ID program to not only create employee ID cards, but to print customer loyalty or gift cards as well.


Create Company ID Cards for:
Building, room or computer access – Issuing employee ID cards is a way to secure access points to a building, room or computer network. Using magnetic stripe encoding, smart cards or proximity cards, system operators can program specific access points and grant access on an individual card holder basis.
Time cards – In addition to access control, ID cards can also function as time cards, eliminating the need for a paper punch system.
Distinguishing between different levels of security clearance – Some employees may have unlimited access to company facilities while others do not. With custom ID card designs, such as color coding, it's easy to differentiate between employees with differing security clearance. The card itself can be encoded so that a simple scan or swipe will inform security staff whether or not they should let an individual enter.
Visitor management – ID card printers can also be used to issue visitor ID cards in order to monitor who is on company premises at all times.
Cashless payment – Employee ID cards can be integrated with a cashless payment system for eating in the company cafeteria, shopping in the gift shop, or grabbing a snack from the vending machine.
Employee ID Card Resources

One of the best uses of ID cards is for employees and offices. Modern ID card technology like magnetic stripes, smart card, and contactless smart card encoders are available on a wide variety of printers, and can help streamline many everyday aspects of an office, including:
Access Control. Many offices, especially those in urban areas, have experienced theft or unauthorized entry. Employee ID Cards with access control features can help keep unwanted intruders from entering the office.
Time and Attendance. Did you know employee ID cards can be used for timekeeping? That's right. Forget the clutter of old-fashioned paper timesheets, an ID card with a magnetic stripe or smart chip can be used as a timecard as well as for access control. ID cards for timekeeping can streamline your operations and make your office much more streamlined.
Not sure how to choose
an ID card printer?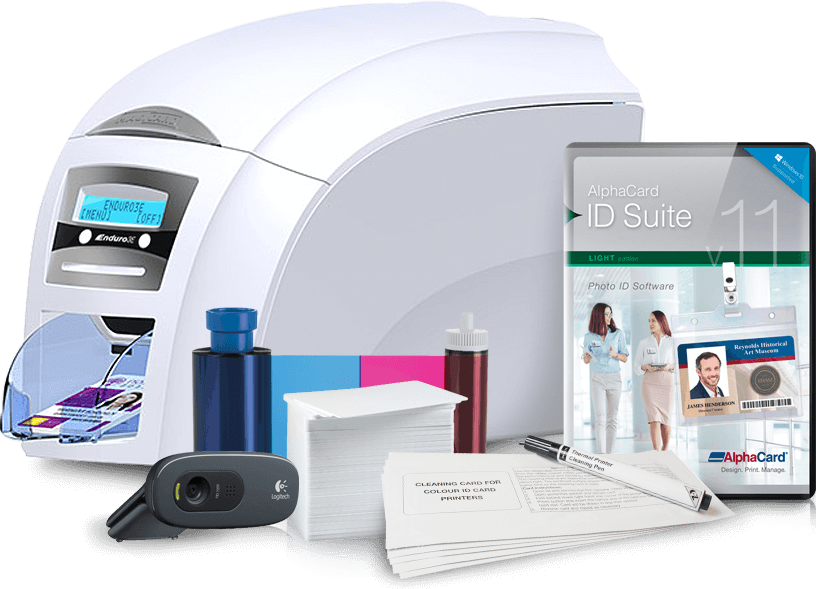 The Complete Card
Printer Buyer's Guide
With such a wide range of ID printers, evaluating the options can be overwhelming. This FREE 7-step guide will walk you through choosing the perfect card printer.
GET YOUR FREE GUIDE